THIS IS THE 5 PASTA RECIPES FOR YOU THAT HAVE NO MUCH TIME, BAD!
November 29, 2018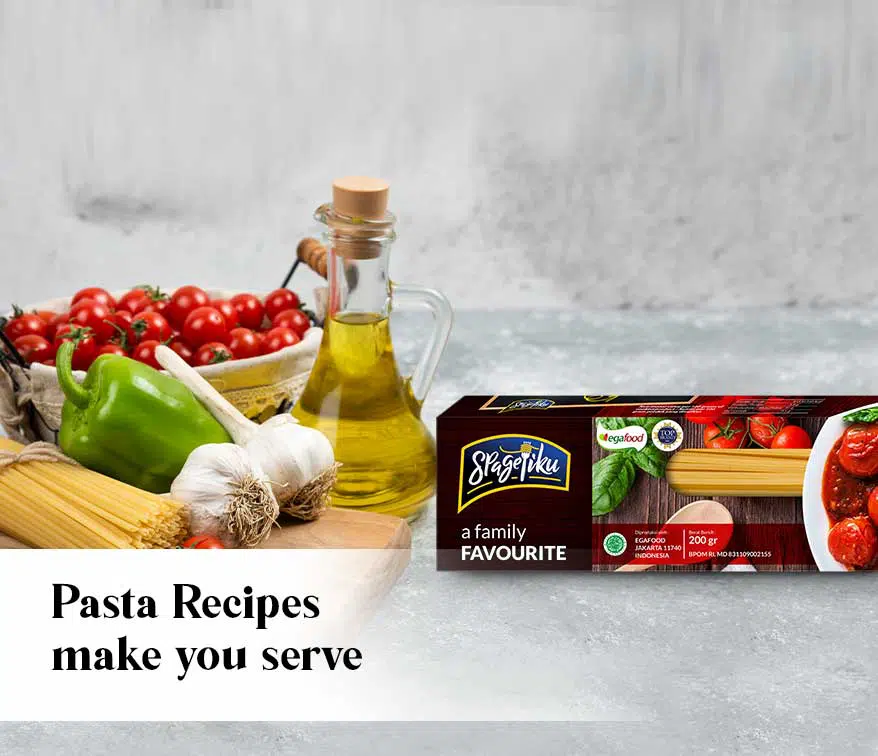 Pasta Recipes For You
As a career woman, you definitely don't have much time to cook. However, that doesn't  mean you don't have option of serving delicious dishes quickly and easily. You can still make pasta dishes. This is because pasta dishes do not require  a long  time in the cooking process. There are a lot spaghetti variants for busy days. Here are 5 popular pasta recipes that you can make easily and quickly.
The most populer pasta dish to date is Spaghetti Bolognese. The sour taste of tomatoes from the bolognese sauce makes anyone who eats it feel refreshed and their appetite increase. Come on, try it!  

Ingredients:

2 tablespoons of cooking oil 
400 grams minced beef
1 onion, diced
2 cloves garlic, chopped
100 grams  of carrots, grated
800 grams of tomatoes, brewed, remove skin and seed, coarsely chopped
5 tablespoons  of tomato sauce 
400 ml of my broth 
400 grams of spaghetti
250 ml water salt and pepper

How to Make:

Heat a large saucepan over medium heat. Add a tablespoon of oil and add the minced beef. Add a little salt and  prepper. Cook minced meat until browned over medium-high heat (only needs dark brown). Once browned, transfer the minced meat to a bowl and set aside.
Add another tablespoon of oil to the pan where you cooked the minced meat and turn the heat to medium. Add the onions and a pinch of salt, and cook until soft, about 5-6 minutes. Add the garlic and cook for another 2 minutes. Add the grated carrots, then pour the minced meat back into the pot.
Add the tomatoes to the pot and stir well to mix. Add tomato sauce, salt and ground prepper. Stir well. Pour in the water and broth, bring to a boil and then reduce the temperature to a gentle simmer for 45 minutes or until the sauce is thick. Taste and adjust seasonings as necessary.
Heat a large pot of water and add a pinch of salt. Add the sapghetti and cook according to package instructions. Once the spaghetti is cooked, drain and add to the pot with the bologenese sauce. Stir well and serve.

Portion: 4

One of the spaghetti variants that has a savory taste with a creamy sauce is sapghetti carbonara. This spaghetti carbonara will be even more delecious if you add pieces of bacon to the grated cheese. It's definitely more savory and definitely filling. Come on, try recipe!.

Ingredients:

1 pound of my Spaghetti
1 tablespoon cooking oil
8 slices of bacon, diced
1 tablespoon cooking oil
1 onion, chopped
1 clove garlic, chopped
4 eggs 
1/2 cup grated parmesan cheese
2 tablespoons fresh parsley, chopped
2 tablespoons grated parmesan cheese salt and black pepper to taste

How to make:

In large saucepan, bring the water and salt to boil, and cook the spaghetti until al dent. Drain well. Tross with 1 tablespoon of cooking oil, and set aside.
Meanwhile in a large skillet, cook bacon until slightly crispy, remove and drain. Add 1 more tablespoons of oil to  the pan where  you cooked the bacoon. Add 1 more tablespoon of oil to the pan where you cooked onions and cook over medium heat until fragrant. Add the chopped garlic again and cook 1 more minute.
Put the bacon back in the pan, add cooked and drained spaghetti. Mix well, adding more oil if the spaghetti seems dry or sticking together. Add the beaten eggs and cook, stirring constantly with tongs or a large fork, until the eggs are barely sticking. Then, quickly add 1/2 cup, of Parmesan cheese, and stir again. Add salt and pepper to tase
Serve immediately with chopped parseley sprinkled on top and extra Parmesan cheese at the table.

Portion: 8

It's all dente texture with a delicous combination of savory tomato sauce makes this spaghetti a classic pasta dish. Come on, try the classic Italian-style spaghetti

Ingredients:

2 tablespoons of cooking oil 
1/3 cup onion, chopped
1 clove garlic, chopped
6 anchovy fillets, chopped
5 large fresh tomatoes, seeds removed and chopped
1 tablespoon tomato sauce
3/4 teaspoon salt
3/4 teaspoon basil
1/2 teaspoon oregano
1/8 teaspoon black pepper
10 ounces of my spaghetti
1 pound medium shrimp, peeled and cleaned
1/2 pound fresh sea scallops, cut into inch
3 tablespoons fresh parsley, chopped
Fresh basil leaves for garnish

How to make:

Heat the oil ini a 3-quart saucepen over medium-high heat. Add onions, cook and stir 4 minutes or until soft 4 minutes or until soft. Add garlic, cook 30 seaconds. Trun off the fire, cover and set aside
Add the anchovies  to the onion mixture in a saucepan, add tomatoes, ketchup, salt, basil, oregano. and pepper. Mix well. Bring to a boil over high heat, reduce heat to Cook uncovered for 20 minutes or until sauce thickens, stirring occasionally
Add prawns and cover cook 2 to 3 minutes until prawns change color and are cooked through, stirring occasionally. Add parsley
Cook the spaghetti a large saucepan of boiling water and salt for 8 to 10 minutes or until al dente, drain well
Combine hot spaghetti with marinara sauce in a large serving bowl, stir until well coated. Garnish with basil. Serve immediately

Portion: 4 – 5

In Italian, aglio e olio (AH-lyoh ay OH-loyh) means "garlic and oil". This makes this pasta dish easy to make and requires just a few  simple ingredients. Let's find  out how to make it below.

Ingredients:

1 pound of my spaghetti
6 cloves of garlic, thinly sliced
1/2 cup cooking oil 
1/4 teaspoon chili powder, or taste salt and black pepper to taste
1/4 cup fresh parsley, chopped
1 cup grated parmesan cheese

How to make:

Prepare a large pot of water and salt. Cook until after boiling, add stirring occasionally until cooked, about 12 minutes. Drain and transfer to pasta bowl
Combine garlic and cooking oil in frying pan. Cook over medium heat to slowly r0ast the garlic, about 10 minutes. Reduce the heat when the oil starts to bubble. Cook and stir  until garlic is golden brown, about 5 more minutes. Turn off the fire
Combine hot spaghetti with chili powder, black pepper, and salt in a pasta bowl, stir until well coated. Also pour in the cooking oil and garlic, and sprinkle with parsley and half the grated parmesan cheese, stir again until mixed.
Serve the pasta with the remaining grated parmesan cheese.

Portion: 2

Alfredo is a pasta sauce that is creamy apart from carbonara. In contrast to carbonara. which is a modification of Alfredo sauce, which is added with more cheese and seasoned with pieces of smoked meat, the raw materials for making Alfredo sauce are butter and heavy  cream. Come on, find out the difference here!

Ingredients:

500 grams of spaghetti
2 teaspoons cooking oil 
1 onion, sliced 
2 cloves garlic, crushed
100 grams of bacon,
1 teaspoon of fresh thyme leaves
300 ml double  cream
30 grams of butter enough coconut, grated
200 grams of grated parmesan cheese
black pepper

How to make:

Cook the spaghetti in a large saucepan for 10-12 minutes or until al dente
After that, put the oil in a skillet over medium-high heat. Add the onion and garlic and cook for 2-3 minutes, until soft. Add bacon and slowly pour int the cream along with the butter and a little  grated nutmeg. Also add the grated parmesan cheese. Keep stirring, Return to medium heat and cook 4-5 minutes until thickened
Combine spaghetti with cream sauce, mix well and add black pepper as desired. Serve immediately

Portion: 4

That's Spaghetti Bolognese pasta recipe that you can make and serve in no time. For those of you who want to find more pasta recipes to serve to your beloved family, then you can find them at egafood.co.id
Rating
Author Rating
Brand Name
Product Name